Speaker
Pep Lluís Roig Alomar
Position:

Executive VP of Dynamic Experiences and Partnership
Company:
Viajes El Corte Inglés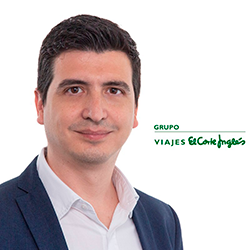 Graduated by the University of Baleares in Engineering, Computer Science; he joined the Logitravel Group same year. During the last 15 years he have actively participated in the development of new businesses around technology and dynamic touroperation. Currently, after the merger with Grupo Viajes El Corte Inglés, he leads the Dynamic Experiences strategy, distributing products from the group's dynamic tour operators (Smytravel and Tourenia), through the company's own B2C brands Logitravel and Viajes El Corte Inglés.