TIS2022 Welcome Party
Enjoy the music and have fun networking as a local – Wednesday 2nd November, 2022
This year at TIS we prepared something special. After an intense day full of activities such as hundreds of conferences, Partner's presentations, the Opening Ceremony and B2B meetings, it is time to party! We invite you to an amazing experience and traditional Spanish tapas and beer.
Start: 2nd November, 2022 – 8.30pm
Place: Restaurante Abades Triana (C/Betis, 69, 41010 Sevilla)
Access only for TIS2022 visitors and that have filled the following form for the Welcome Party. If you do not bring your printed accreditation, you will not be able to access the Welcome Party.
*Registration to TIS2022 Welcome Party is closed.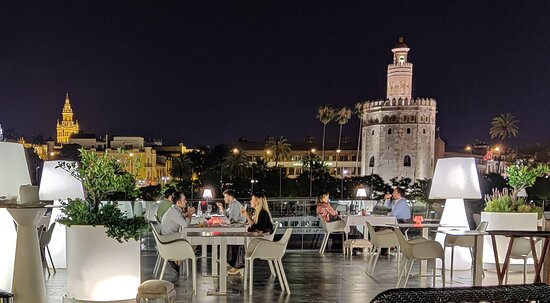 Abades Triana is located on Betis Street in Seville, next to the Guadalquivir River and in front of the Torre del Oro, in the popular Triana neighbourhood.
Its spectacular panoramic window in the living room makes it the perfect place to discover the river as a protagonist and contemplate the Torre del Oro, the Giralda and the Maestranza.